2019 FPACC BI-NATIONAL CONFERENCE TOUR Game Changers in a Global Business World
The Federation of Philippine American Chamber of Commerce (FPACC) is hosting its Bi-National Business Conference ("Game Changers in a Global Economy") on November 9, 2019 at the Hyatt O'Hare. We are expecting over 400 members of various Philippine Chambers of Commerce from all over the country, Manila and Mexico to attend the Bi-National Conference in Chicago and am hoping that you are able to attend the conference as well as attend the dinner gala. Attached is the flyer for further info.
Our keynote speaker is IL Governor JB Pritzker and in addition, we have attending the Philippine Ambassador to the US, State Senators and Congresswomen as well as numerous high profile corporate CEOs from all over the US and Manila. We also have an incredible line up of very accomplished speakers. Please visit our website www.fpacc.net for more information and to register.
Registration for this event has passed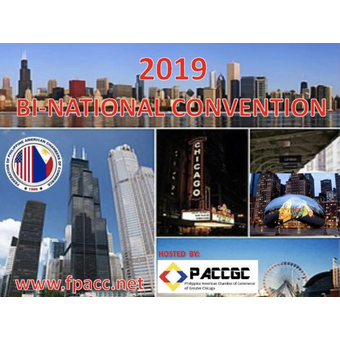 9300 Bryn Mawr Avenue, Rosemont, Illinois, 60018, United States