2020 Member Appreciation Event

Event Details
It's that time of year again! The event that kicks of the new year for NAAAP-Chicago. There's no one else we appreciate more than our members because without them there would be no NAAAP!
If you are a current member please join us at our annual appreciation event. Enjoy food, drinks, and company. Learn about the upcoming programs that will happen in the new year and meet the Board of Directors.
REGISTRATION
MEMBERS! You must log in to view ALL registration types for which you may be eligible.
Lifetime Members: Complementary registration opens January 16
Annual & Corporate Members:
Early Bird: $25 per person - NOW until January 15;
Regular: $40 per person - January 16 - February 4
Onsite: $50 per person - February 6
MEMBER SPECIAL: $75 This fee includes one year annual membership + $25 early bird fee.
REGISTRATION CLOSES FEBRUARY 4
PLEASE NOTE: Free member plans do not qualify for special rates or offers.
Tortoise Supper Club - 350 N State Street, Chicago, IL60654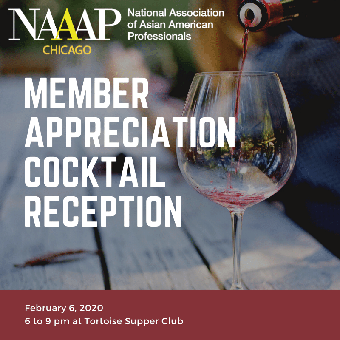 350 N State St, Chicago, IL 60654, USA