Asian American Group Leaders (AAGL) Best Practices Meeting
This Best Practice Meeting is being hosted by:

Event Details
This meeting is for ERG/BRG Co-Chairs, or the Human Resource leaders charged with engaging Asian American employees.
Our host, TransUnion, will present a profile of their ERG and hopefully spur a lot of discussion on what they have learned.
Come and share what things have worked with your group, what hasn't, what you are hoping to achieve. We will also provide an overview of the AAGL Program and how it can help with your ERG efforts.
REGISTRATION
This event is restricted to AAGL and Corporate Members.
AAGL Membership is free but is restricted to ERG/BRG Co-Chairs, Human Resource Leaders, or Diversity & Inclusion leaders. Email aagl@naaapchicago.org to request an AAGL Membership.
TransUnion, 555 W. Adams St, Chicago, IL 60661
What is Asian American Group Leaders?
NAAAP-Chicago's Asian American Group Leaders Program consists of a network of Asian Employee Resource Groups (ERGs), Business Resource Groups (BRGs), and Multicultural Diversity Councils (MDC) across the Chicagoland area.
Learn More at http://www.naaapchicago.org/programs/aagl/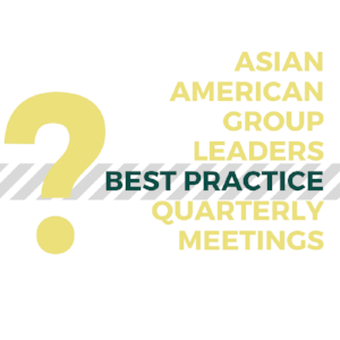 555 W Adams St, Chicago, IL 60661, USA