Get More From Your Retirement with Tax Diversification

Learn how to help reduce the effect taxes can have on your retirement income.
It's never too early to think about retirement. And retirement isn't what it used to be—especially with people living longer and spending more of their lives as retirees. With fewer companies offering pensions, and Social Security facing an uncertain future, the way we fund our retirement is changing, too. Thanks to a sponsorship by New York Life, this seminar will discuss methods that can help you get more out of retirement and save on your taxes.
Speaker:
Eric Yu,
New York Life

Speaker:
Peter Shapiro,
New York Life
REGISTRATION
NAAAP Members - FREE
Non-Members - $20
Or attend for FREE when you join/renew your membership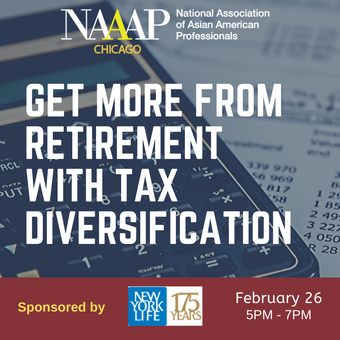 420 N Wabash Ave, Chicago, IL 60611, USA