NAAAP Wellness Wednesday
Wellness Wednesday
a Self-Care Monthly Meetup
Lets discuss the Asian American Experience in Wellness Careers! How do healers also navigate career advancement, workplace discrimination, and self-care?
This event, like all Wellness Wednesday events, is FREE and open to all! Events are in English.

We are also encouraging donations to Stop AAPI Hate and the Asian Mental Health Collective:
https://donate.givedirect.org/?cid=14711
https://www.asianmhc.org/about-us/#donate

Meet Our Speakers: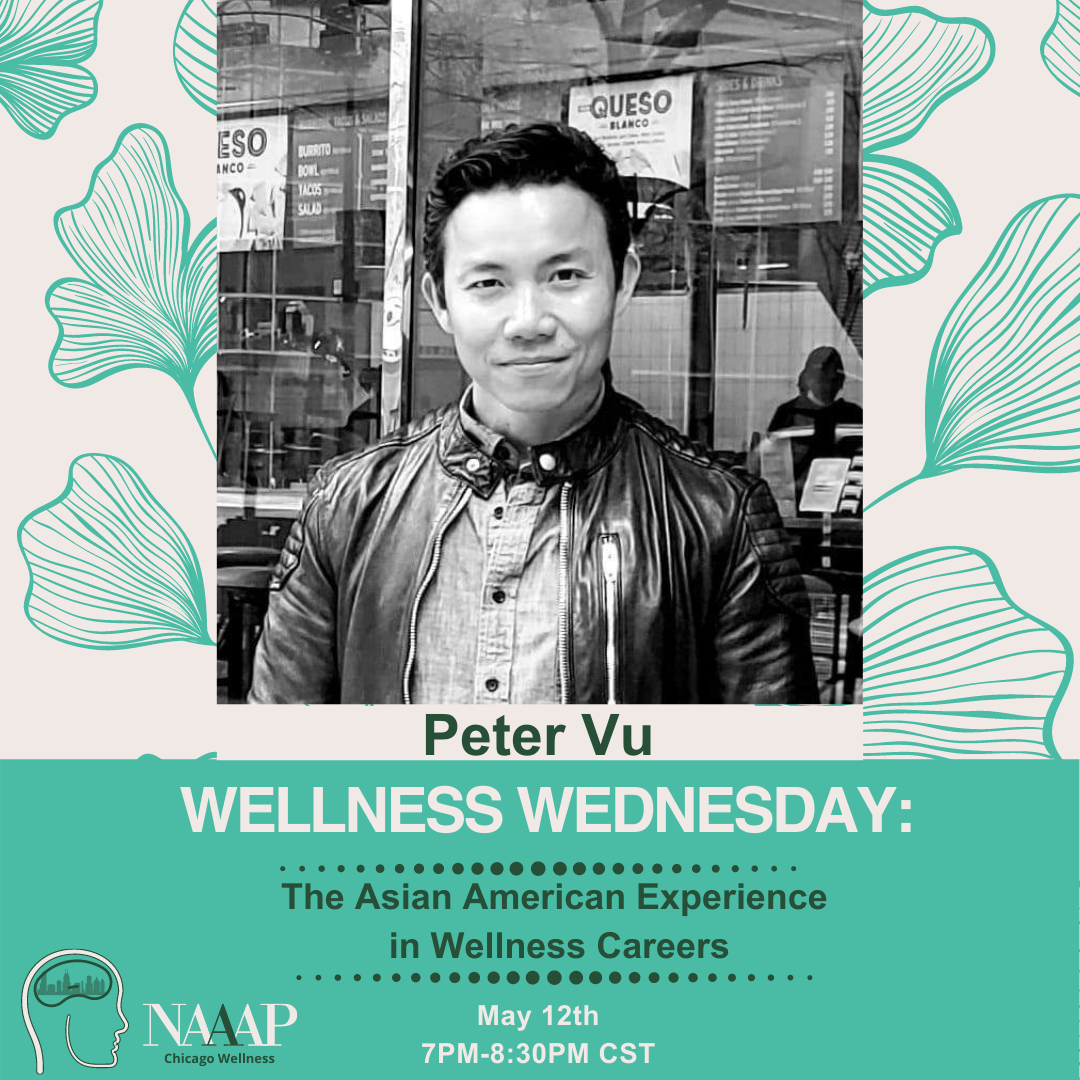 Peter Vu is a former high school math teacher turned salon owner. He is on a quest to use technology and best business practices to improve the customer experience in the nail salon and the wages and working conditions of the nail techs. He has founded NAILaCARTE, with the mission to make nails accessible and fun for everyone. The company is looking to expand to 5 locations in the next 3 years.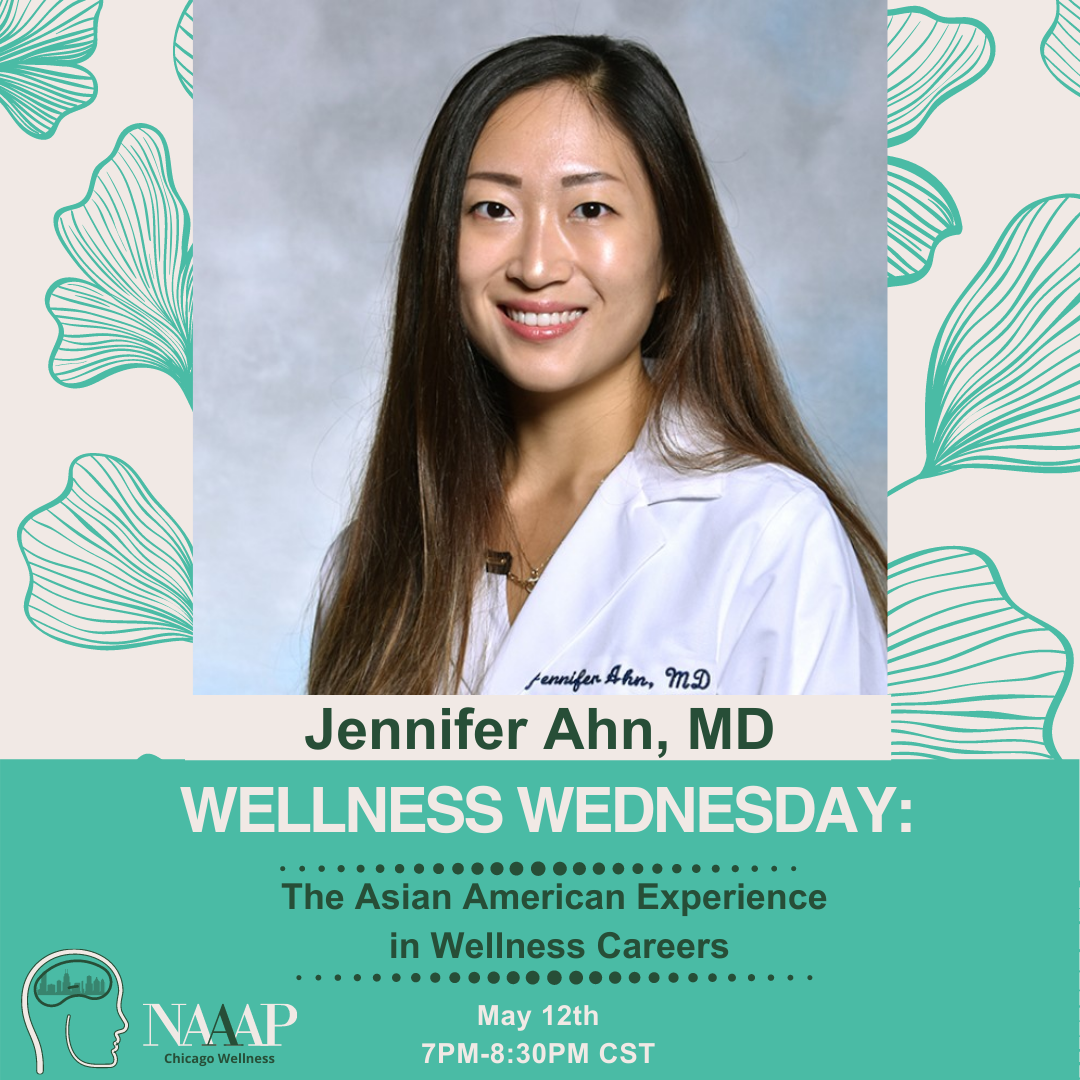 Jenniffer joined UChicago's family medicine program because it offers a variety of tracks and has a very strong academic background with a community focus. Family medicine is an important piece of improving patient care in the US health system and she wanted to be part of a program that was going to give her as much support as possible to be in the forefront of change and growth in primary care.
She is originally from Georgia and her hobbies outside medicine include Pilates, piano, baking, cooking, and shopping.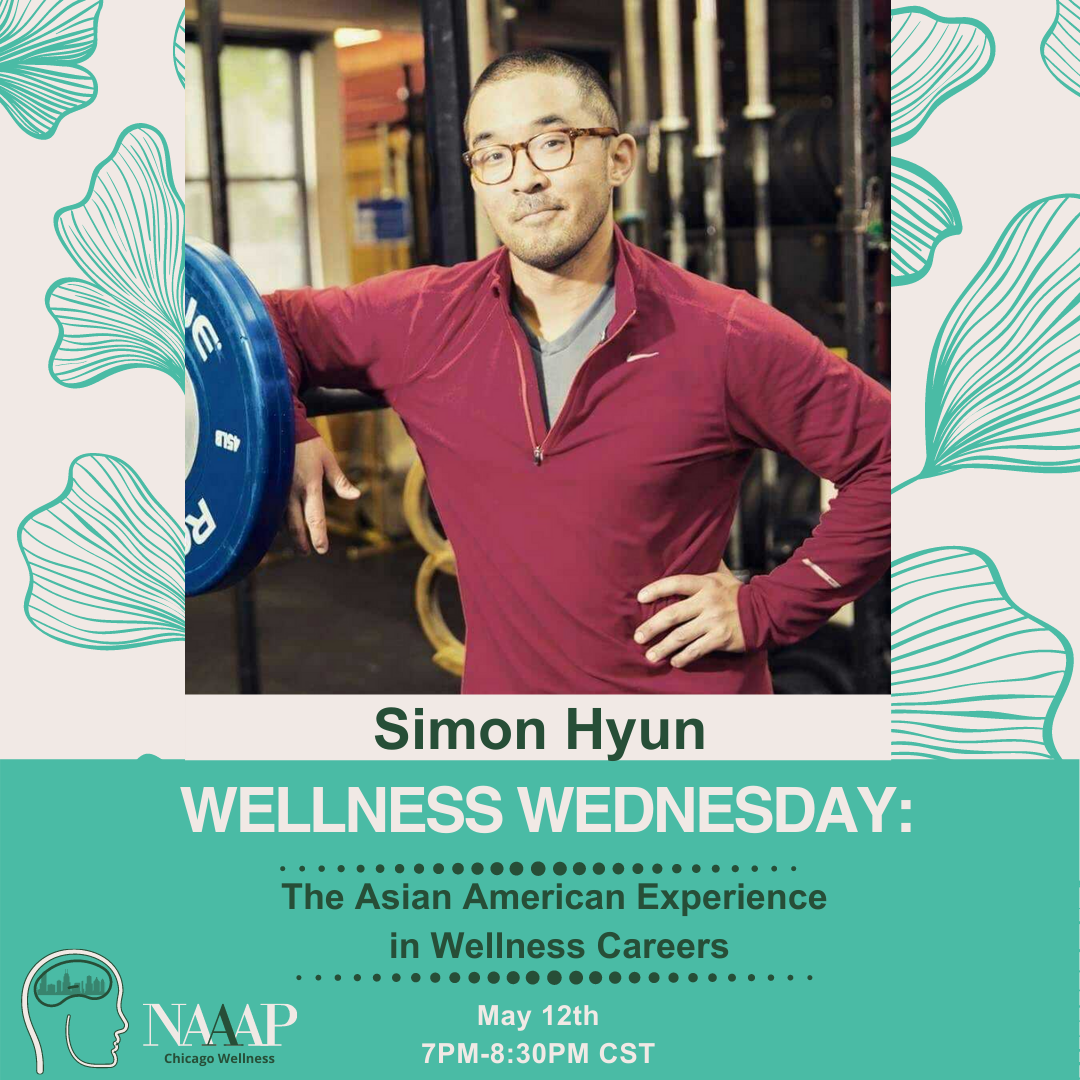 Simon Hyun is the founder and lead trainer of Simon Says Lift. Over the course of over 10 years, he's helped everyone from ultra-marathoners to busy executives discover their true fitness potential. When he'a not coaching he enjoys Korean BBQ, the 85 Bears and lifting heavy things. Learn more at simonsayslift.com or on Instagram at SIMONSAYSLIFT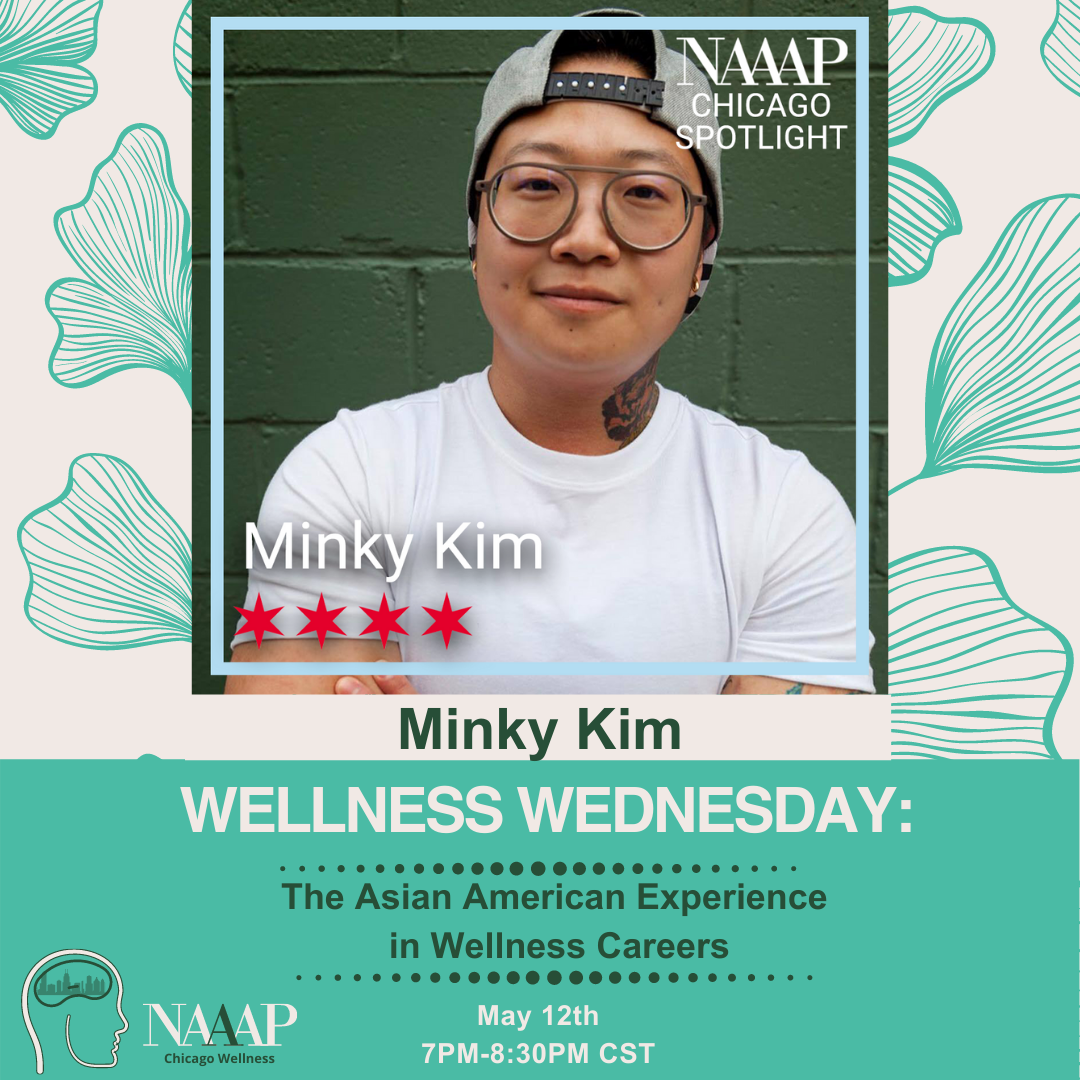 Minky (they/them) is the proud founder, owner, and head trainer of LiftyBoi Fitness, a training space designed to be a resource for queer, trans, fat, POC, disabled, and low-income individuals to feel empowered to pursue more fitness goals in their lives. As an avid powerlifter, bodybuilder, rock climber, and overall strength fitness enthusiast, their goal is to share this love of training with others and help them feel confident in their own strength too. In addition to this, they are a certified vet tech and work at Rush University Medical Center in the Research department.

In 2020, Minky opened a private training space for the community that could be utilized on your own or in a semi-private sessions. It was set up with all of the COVID safety precautions in mind, and is flourishing! They are looking forward to continuing on this journey and building a vast community of those who are interested in fitness not necessarily for aesthetic, but to feel strong within their body and to find joy in movement.

"Before I became a Certified Personal Trainer, I quickly realized that a huge number of queer, trans, fat, and low-income communities avoid gym/fitness spaces because of how intimidating, gendered, and fat-shaming the culture can be. Being a queer, nonbinary transmasculine immigrant of color, I am not unfamiliar to this sort of discomfort and feelings of danger in spaces that may not be inclusive. So I decided to move forward with a PT certification in order to create access for the communities I hold dear... I believe that bodily autonomy, movement, and physical exploration should be accessible to every human, regardless of their gender, body shape/size/type/capability, race, and income. I appreciate the opportunity NAAAP-Chicago has given me to share my story on this platform, and hope to expand the recognition of more queer and gender non-conforming Asian professionals."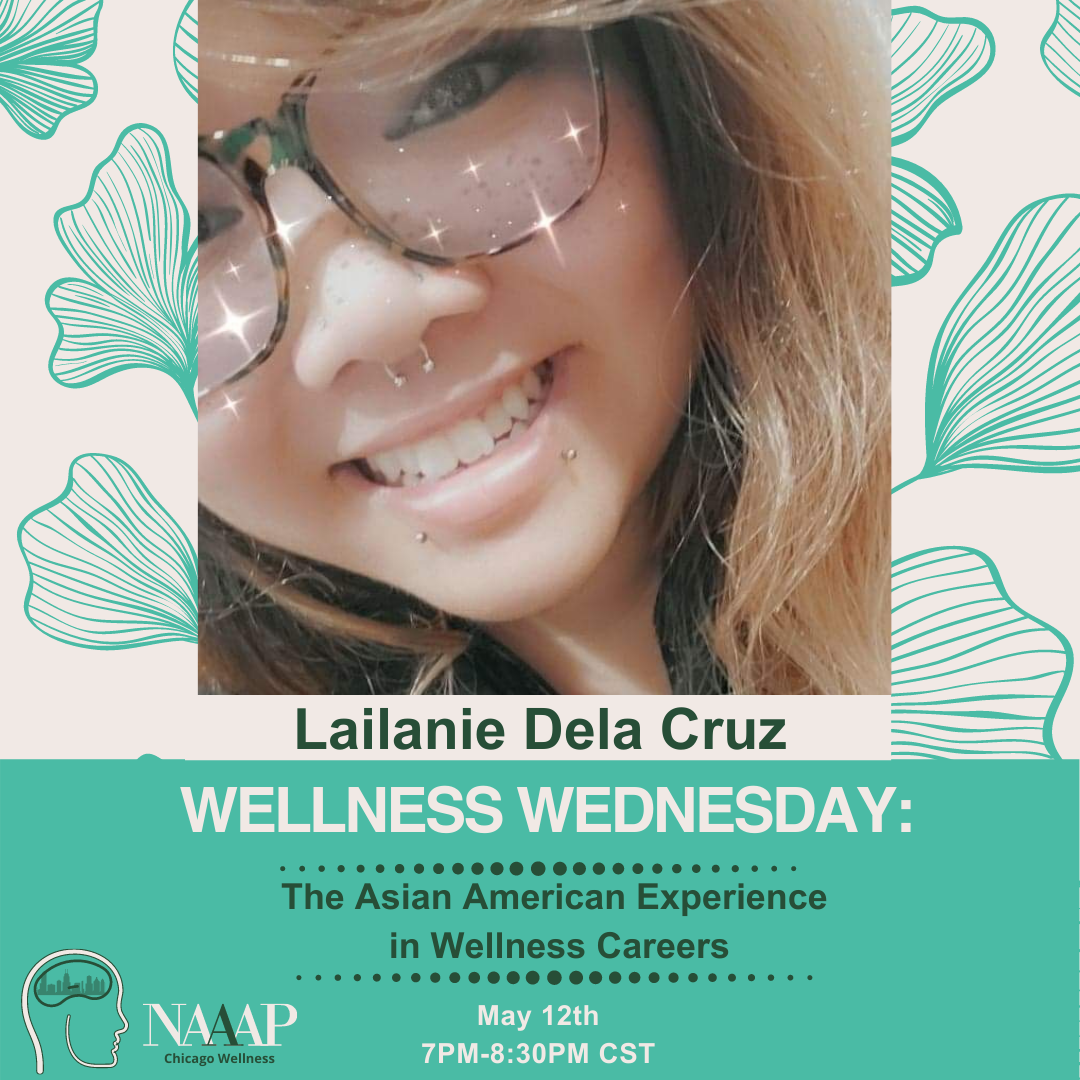 Lailanie Dela Cruz, a first generation Filipino-American just trying to live life in the best way posslble. From decorating birthday cakes to teaching kids how to swim, going through hardships in 2020 and now a part of the increasingly growing cannabis industry, Lanie learns more about herself, her inner conflicts and how she can impact the world one smile at a time. "Mental health and breaking social norms are sometimes scary topics but it's okay to be yourself and express yourself in a way that makes YOU happiest."
______________________________________________________________________________________________
Each month NAAAP Chicago's Wellness program hosts a free session of self-care called Wellness Wednesday!

Wellness impacts so many facets of our professional and personal life. Small things can make a big difference, from music to taking a walk. So we've planned an interactive activity each month to help prepare for and deal with growing stressors! Lets share ways we can foster our own wellness and the wellness of our workplaces, community, etc!

Sessions will be led by our co-founding leaders of NAAAP-Chicago Wellness - Dr. Elizabeth 방실 Smith (PsyD) and Grace Garcia, MHA, BSN, RN.
May 12th, 2021
7:00pm - 8:30pm
Location: Online
REGISTRATION
Registration is FREE
Consider purchasing a membership for $50 (Discounted at $35 for Non-profit/Government & $25 for Students) to take advantage of a full year of this Wellness program, as well as many other programs and events offered by NAAAP-Chicago!
Learn about our other programs: