Power Reads & Mindful Conversations Meetup
Power Reads & Mindful Conversations
We plan on reading, discussing, laughing and questioning in this book club. For every meetup, we will select a book based on a theme of personal and professional development, minority authors, award-winning books, etc. and meet virtually for a conversation about the book and how it impacted us. We look to learn and be inspired by authors and each other.
Next Meet-up
Thursday, May 6th 2021
5:30pm - 6:30pm CST
Meeting Virtually via Zoom (Link provided after registration).
Join this month's "Power Reads & Mindful Conversations" into Mira Jacob's book:
Good Talk
A memoir in conversations
Far from its humorous meaning of wanting to end an awkward conversation, Mira's "Good Talk" baits the reader to address those tough questions in love, racism, gender bias, etc. head-on. Her book set in a graphic novel style depicts memories and moments that shaped her worldview. Meticulously hand-drawn by the author, Mira recalls these events as she experienced them in that moment in time. Throughout the book we see how the characters grow within themselves and their relationships with each other throughout the years. By sharing her own story, Mira has stirred the hearts of the readers and challenges them to take an introspective view of one's own growth in themselves and their own relationships.
"Life is long…people grow in strange moments. Things become more clear with the passage of time."

(Wellesley College, 2019, 52:38)
This love letter of a memoir captures a range of emotions and experiences that will surely lead the readers to their own powerful personal insights. Come join us as we share our own reflections on Mira's book. We'll provide space for growth, validation, and laughter in community with each other.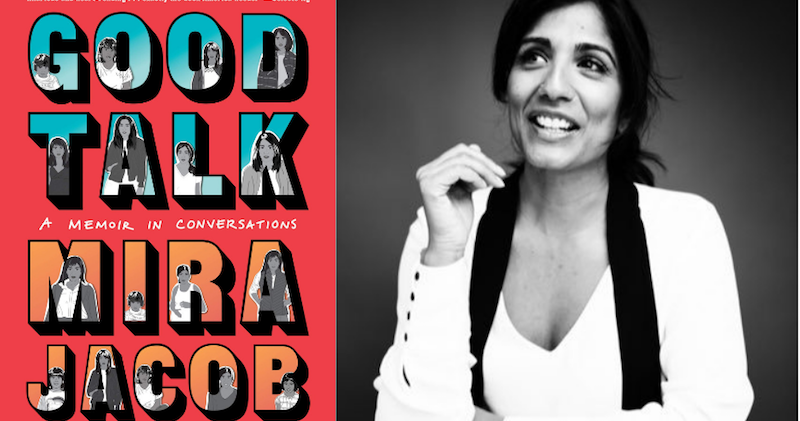 AUTHOR BIO
Mira Jacob is a novelist, memoirist, illustrator, and cultural critic. Her graphic memoir Good Talk: A Memoir in Conversations was shortlisted for the National Book Critics Circle Award, longlisted for the PEN Open Book Award, named a New York Times Notable Book, as well as a best book of the year by Time, Esquire, Publisher's Weekly, and Library Journal. It is currently in development as a television series with Film 44.
Her work has appeared in The New York Times Book Review, Electric Literature, Tin House, Literary Hub, Guernica, Vogue, and the Telegraph. She is currently the visiting professor at MFA Creative Writing program at The New School, and a founding faculty member of the MFA Program at Randolph College.



She is the co-founder of Pete's Reading Series in Brooklyn, where she spent 13 years bringing literary fiction, non-fiction, and poetry to Williamsburg.

She lives in Brooklyn with her husband, documentary filmmaker Jed Rothstein, and their son.
Wellesley College. (2019, October 7). Mira Jacob on Good Talk: A Memoir in Conversations [YouTube Video].
REGISTRATION
Open to all.
Learn about our other programs: