Ukiyo-e: Japanese Woodblock Printmaking Workshop - Japanese Cultural Center
Learn Japanese Woodblock printmaking techniques with multiple woodblocks- and your own postcard sized print to take home!
**Workshop is limited to participants 18 years of age and older as sharp tools will be used for carving
Note about the class from Mami Takahashi:
From the earliest points in my artistic practice to the present, I have always had an affection and an interest in the beauty and precision in traditional printmaking techniques, and have at various times integrated the skills I learn from working these techniques into my own practices.
This class introduces students to the most compelling of these processes: Ukiyo-e, a genre of Japanese woodblock prints produced between the 17th and the 20th centuries. Known for dynamic compositions and color gradations, Ukiyo-e's influence on both major artists of the western canon such as Paul Gauguin and Van Goh will be explored alongside traditional and current Japanese artists revisiting the techniques and practices.
In this introductory class, participants will make a color by using two to three carved blocks, as well as learn the smooth color gradation technique unique to the process. the class will include presentations of traditional Ukiyo-e print and design workshop.
Through this class, students will create postcard size works derived from the block printing techniques demonstrated to explore their own concept and ideas.
About the Instructor
Mami Takahashi is a Japanese multidisciplinary artist and a scholar based in Portland and Tokyo. She received her MFA in Contemporary Studio Practice from Portland State University in 2013. She earned a BFA in Japanese Painting from Joshibi University of Art and Design in Japan where she was awarded a prize for her thesis work. Takahashi also obtained an Associate of Fine Art in Aesthetics from Aoyama-gakuin Women's College in Japan.
As an artist, she uses a variety of art-making methods: from traditional art and craft techniques, such as paper-making, woodblock printing, and Japanese painting, to writing and scientific-technological approaches, such as chemical reactions and digital modulated sound systems. Her work has been collected and exhibited internationally.
Registration for this event has passed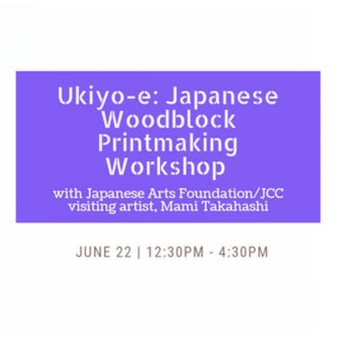 Japanese Culture Center 1016 West Belmont Avenue Chicago, IL 60657