WiN Book Club - Minor Feelings
Spring into this season by joining Women in NAAAP's Book Club! Spotlighting Asian-American women in literature - we celebrate narratives and authors that cover cultural identity, heritage, adversity, and perseverance. We will meet once a quarter to discuss our thoughts, feelings, and personal experiences as it relates to the book!

WiN is excited to announce this season's book selection, "Minor Feelings" by Cathy Park Hong. Through cultural criticism and her individual life experiences, Hong creates a narrative that challenges Asian American people to reflect on their own race, politics, and identity. She cleverly uses humor to unpack the complexities of being Asian in America and the "minor feelings" that arise when the American perception of Asian identity contradicts reality.

Book Club is a great way to network and meet others with common interests. Whether you're a casual reader or avid reader, all are welcome to join!
Learn about all our programs: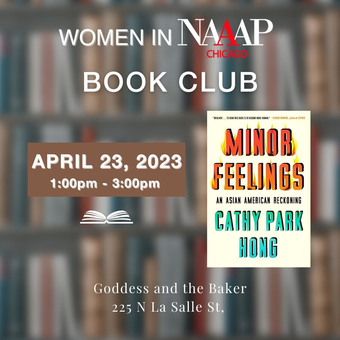 Goddess and the Baker - 225 N La Salle St, Chicago, IL 60601